| April 25th, 2010
Search Results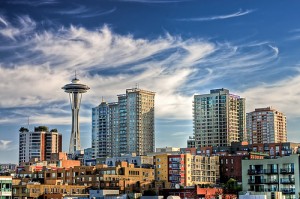 Alaska is one of two US states that doesn't border any of the others directly, so it can be a long trip even for Americans. Because its the closest large American city to Alaska, Seattle is one of the most popular starting points for a trip to the frontier state. The two cities have a lot in common, both being coastal northwest cities with a population that likes to get outdoors and explore. Whether you are a Seattle resident or an international traveler stopping there on the way, there are several options for getting from Seattle to Anchorage. There are no rail options that cover the entire route, but trains can get you part of the way, if you want to make the cruise or drive to Anchorage a shorter one.
Flights
from

Seattle

-Tacoma

to

Anchorage

This flight route is the single most popular way for outside visitors to get to Alaska. There are daily flights year-round on both Alaska Airlines and Continental Airlines from Seattle-Tacoma Airport to Ted Stevens International Airport in Anchorage. Flight time is about three hours, making this route the fastest option for getting from the lower 48 states to Anchorage. Flying is also usually the cheapest option. To search for flights, enter your travel dates into the form at the bottom of this page.

>> International travelers may be able to skip the stop in Seattle and get a direct international flight to Anchorage
>> More about flying to Alaska
Cruises
from

Seattle

to

Anchorage

If you aren't in such a hurry, and want to see some of the amazing coastline between these two coastal cities, consider taking a cruise from Seattle to Anchorage. Though more travelers board their cruise in Vancouver rather than Seattle, starting in Seattle gives you more ship time, and includes views of the stunning Puget Sound as you depart. The major cruise trips all take about seven days, and ships range in size from the 235-passenger Empress of the North to the huge 2000+ passenger cruise ships from Princess, Royal Caribbean and other providers.

>> Find out more and search for cruises with our Alaska Cruise Guide.
Driving
from

Seattle

to

Anchorage

As close as Seattle is to Alaska, in comparison to the rest of the country, it's still a good distance. Some might be surprised to learn that the driving distance between the two cities is 2,250 miles, about the same as between New York and Phoenix, Arizona. That being said, if you have the time to devote to this drive, it can be one of the most memorable and beautiful you will ever take. If time is no object, and you want to see and interact with both Alaska and British Columbia, this is the way to go. The drive at least five days for a quick trip, and seven if you want to make stops and wander a bit, so it's really no faster than a cruise.

Photo by bensonkua